Hi everyone! So, about that New Years' resolution to update my deviantART journal more frequently... Whoops! :'D I hope you have all had a great start to 2013; I know I sure have~!
Last weekend, my friends and I went to Katsucon. It was my first time attending a convention outside of the Midwest, and it was an incredible experience! I met so many new people and visited an area of the country I'd never been to before. Not to mention I had a great time doing photoshoots and premiering some new costumes!
If you want all the details on our Katsucon experience,
check out my con report vlog: [link]
I'll be uploading pictures steadily (huzzah, the drought is over!) over the next few weeks, but in the mean time, here are a few previews!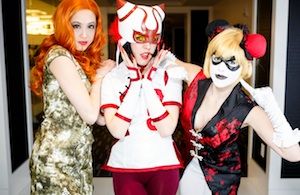 And if you want to see any of my costumes in action, here are the CMVs I got to be a part of from this con! It was so much fun working with each of these videographers, and being included in such awesome convention documentaries is hugely flattering. C:
Ackson's Katsucon Cosplay Video 1-5
:
[link]
Kevin Stiller's Katsucon Friday Cosplay Video
:
[link]
Finally, if you want to see any videos the girls and I filmed while we were at the con, you can find them on Inner Mind Theater's mobile channel!
[link]